Specialty Programs
Maxout with Mel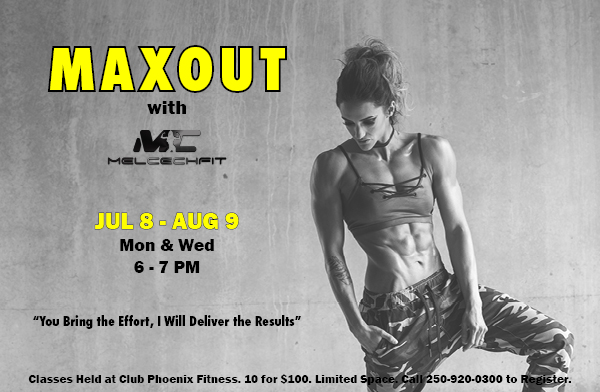 Description: Maxout with Mel is a metabolic conditioning group-class aimed at building lean muscle while burning body fat. High rep, high heart rates, and good music with Mel's motivational guidance will get you through this 60 minute session. Get ready to work hard! This is an intermediate level class.
Dates: November 14 - December 15
Days: Mondays, Wednesdays, Fridays
Times: 6:15PM
Fees: $150 for 15 Classes

Murder by Mel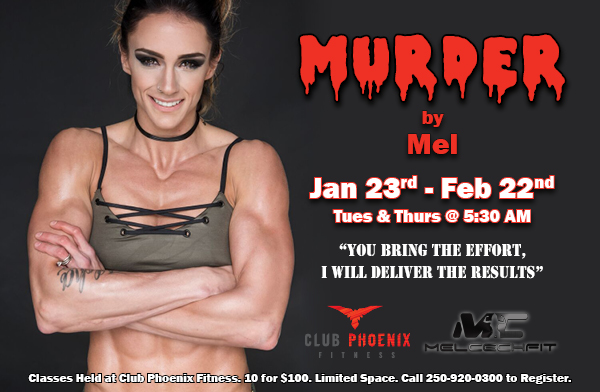 Description: An intermediate, 60 minute high intensity, death by failure, interval training group class aimed at burning bodyfat while simultaneously building lean muscle. Adding these 2 classes per week to your regular exercise regime will surely push you to achieve and surpass your fitness goals.
Dates: November 14 - December 14
Days: Tuesdays & Thursdays
Times: 5:30AM
Fees: $100 for 10 Classes

Fall Fit-Fix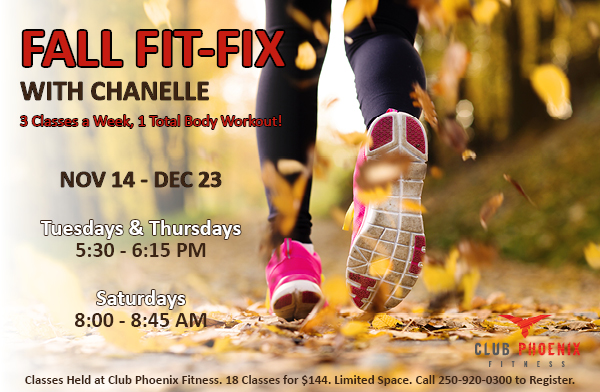 Description: Transition easily, yet effectively back into the hustle and bustle of life this autumn with a Fall Fit-Fix! This new program will keep you on track with three different workouts each week. Chanelle will focus on lower body, upper body, cardio, and core to give you great results in a 45-minute class. During this six-week program, you'll not only be able to maintain what you have worked for, but also see improvements and results fast. Three classes, one total body workout!
Dates: November 14 - December 23
Days: Tuesdays, Thursdays, and Saturdays
Tuesdays - Rock Bottom: This class starts your week off right by using those legs, glutes, and footwork. No one wants to be struggling to walk by the time the weekend rolls around, so let's get this leg toning set out of the way (soreness is not guaranteed to be gone by the weekend). Using body weight, bands, and weights you'll get a total lower body workout targeting every leg muscle and ensuring you engage them properly, getting you to your goals effectively and safely. Each week will be slightly different on the format from timed intervals to sets and high rep ranges. Give yourself a kick in the butt, literally! This class is focused on lower body toning and strengthening.
Thursdays - Hands On: By integrating arms, shoulders, chest, and back exercises during this class, you'll see results in no time and get an insanely strong upper half! If you want an upper body workout that will help you build your best body ever, then this class is ideal! This class offers TRX training sets, free weights, and body weight exercises that are simple yet effective.
Saturdays - Belly Burn: Welcome to circuit training. This class is the last piece to your total body puzzle by pushing you to your limits with cardio and core work. This class offers stations of cardio, strength, plyometric, and core training focus. Torch calories and tone up those abs by using metabolism efficiently in the cardio segment and then finish things off with a core cash-out!
Times: 5:30PM Tues/Thurs, 8:00AM Sat
Fees: $144 for 18 Classes